Our selection of deli meats
Bacon and roast pork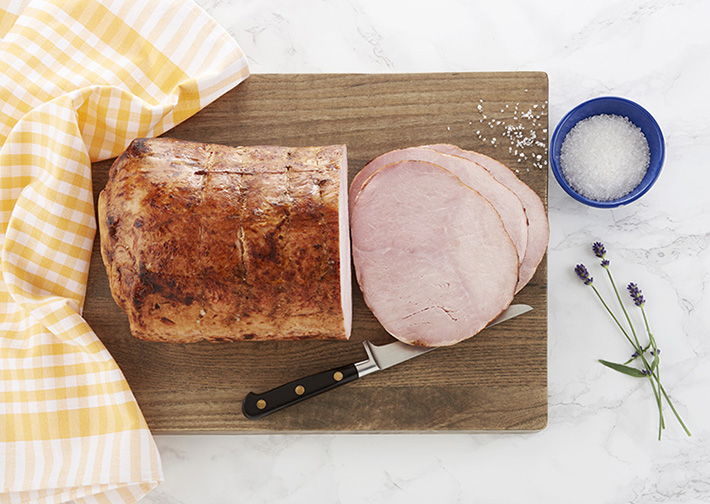 Our selection
Discover our bacon and roasts for retail sale or slicing. Made from pork fillet or sow meat, our products are seasoned, cooked and lightly grilled or beechwood smoked for a unique flavour !
THE ADVANTAGES OF THE RANGE

Flavour
Our roasts and bacon are cooked with care to give you some unique flavours.

Expertise
Our products are adapted to the requirements of industrial slicers thanks to our expertly run production process. 

Choice
From traditional hand-tied products to products designed for slicing, our range is versatile and can be adapted to suit your needs.
Discover our products
Pork fillet cured in salt and smoked with beechwood

approximately 1.7 kg - EU meat- sliced and vacuum-packed

Approximately 90 mm in size - package contains 6 units

Injected pork fillet, beachwood smoked

EU meat - Approx. 1.7 kg - Sliced and vacuum-packed

Approximately 90 mm in size - Package contains 6 units

Superior cooked pork roast, cured and browned

1/2 unit - Approx. 3.2 kg - EU meat

Double loin - Package contains 4 units

Traditional superior cooked pork roast, cured and browned

1/2 unit - Approx. 4 kg - French meat

Triple loin - Hand-tied - Package contains 4 units

Superior cooked pork roast, cured and for slicing

EU meat - Approx. 6 kg - Approximately 90 mm in size

Vacuum-packed in two units - Sold loose

Injected pork fillet, beachwood smoked, for slicing

EU meat - Approx. 6 kg - Vacuum-packed in two units

Approximately 90 mm in size - Sold loose

Pork fillet cured in salt, beechwood smoked, for slicing

EU meat - Approx. 6 kg - Vacuum-packed in two units

Approximately 90 mm in size - Sold loose