Discover
Our aim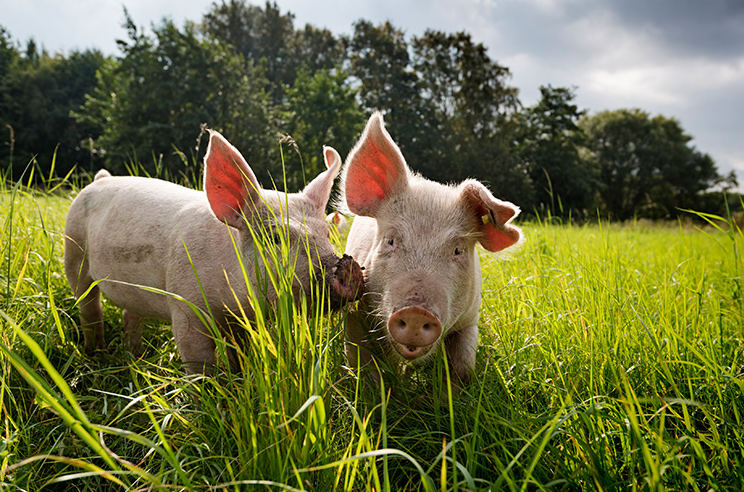 Everyday we use our skills and technology to provide you with products which are even more relevant to you, better for your health and more environmentally friendly. All this requires is setting our sights on specific goals !
What we're aiming for

A more local approach
by prioritising local suppliers for raw ingredients. This reduces the distance they need to be transported and increases the freshness of ingredients which leads to better flavour, such as with the Aveyron ham "Le Cambajou".

More natural products
by phasing out the use of synthetic flavours and preservatives in our products in favour of natural plant extracts. This is true for our on-the-bone range and our traditional roasts.

Enjoyable for everyone
by eliminating all allergens from our products in the short term so that anyone can experience the delicious taste of ham, such as our ham on the bone.
Discover our certified flagship products
Organic superior cooked ham, rind and fat removed

2 slices - 80 g fixed weight

EU origin - Package contains 10 units

Organic superior cooked ham, rind and fat removed

4 slices - 120 g fixed weight

EU origin - Package contains 10 units

Organic superior cooked pork roast cured and grilled with Provençal herbs

2 slices - 80 g fixed weight

EU origin- Package contains 10 units

Organic superior pork fillet cured in salt, beechwood smoked

Approx. 10 slices - 80 g fixed weight

Package contains 10 units

Organic superior smoked pork belly cured in salt, beechwood smoked

Approx. 10 slices - 80 g fixed weight

EU origin - Package contains 10 units

LABEL ROUGE superior cooked ham, with rind

Appox. 8 kg variable weight - Package contains 1 unit

Prepared exclusively with fresh pork legs - French meat

LABEL ROUGE superior cooked ham, rind and fat removed

Appox. 8 kg variable weight - Package contains 1 unit

Prepared exclusively with fresh pork legs - French meat

Traditional superior cooked ham, rind removed

2 slices - Approx. 300 g variable weight - Package contains 8 units

French origin - Thick slices retaining the fibre of the meat

Superior cooked ham, rind and fat removed

2 slices - 180g fixed weight - Package contains 10 units

French origin - Ham prepared in our deboning workshop

Traditional superior cooked ham, rind removed

Approx. 14 slices - 1 kg fixed weight

French origin - Box contains 4 units - Retains the fibre of the meat

Superior quality rosette

Approx. 65 slices - 500 g fixed weight - Box contains 6 units

French origin - Finely sliced to release all the flavours

Superior cooked ham on the bone with rind

Approximately 8 kg variable weight - Package contains 1 unit

French meat - Aged product cooked on the femur

Superior cooked ham on the bone with rind and without the femur

Approx. 8 kg variable weight - French meat - Package contains 1 unit

Product aged on the bone and then removed from the bone before cooking for easier slicing

Genuine cooked ham on the bone with rind

Approx. 9 kg variable weight - Package contains 1 unit

French meat - Product aged and cooked on the bone

Traditional superior cooked ham with rind and without the shank and femur

Approx. 8 kg variable weight - French meat - Package contains 1 unit

Product aged on the bone and then deboned before cooking for easier slicing

Superior cooked ham with rind - Aveyron pork

Approx. 7.5 kg - Package contains 1 unit

French meat from the département of Aveyron

Top quality superior cooked ham with rind

Approx. 7.5 kg - Variable weight - Moulded large slices - Package contains 2 units

French meat deboned in our workshops

Top quality superior cooked ham, rind and fat removed

Approx. 7.5 kg - Variable weight - Moulded large slices - Package contains 2 units

French meat deboned in our workshops

Traditional superior cooked pork roast, cured and browned

1/2 unit - Approx. 4 kg - Package contains 4 units

French meat - Triple loin - Hand-tied

Top quality superior cooked ham log, rind and fat removed

Half-moon shape - Approx. 20.5 kg - Variable weight

French meat deboned in our workshops - Loose

Top-quality superior cooked ham log, rind and fat removed, with Provençal herbs

Half-moon shape - Approx. 20.5 kg - Variable weight

French meat deboned in our workshops - Loose

Large top-quality superior cooked ham log with rind

Approx. 28.5 kg - Variable weight

EU meat deboned in our workshops- Loose

Grilling sausage à la Provençale

Approx. 1.9 kg - Variable weight - Package contains 4 units

EU origin meat - Rigid container

Basque-style grilling sausage

Approx. 1.9 kg - Variable weight - Rigid container

EU origin meat - Package contains 4 units

Grilling sausage with wild garlic

Rigid container - Approx. 1.9 kg - Variable weight

EU origin meat - Package contains 4 units