Our selection of salami
Dry-cured sausages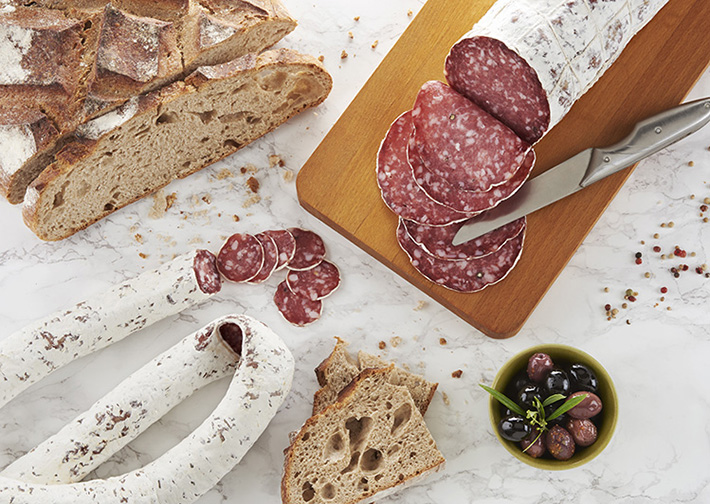 Our selection
Discover our line of dried cured sausages. They come sliced or chiffonade-sliced and are perfect as a gourmet appetiser to share with friends or to complement a raclette board !
THE ADVANTAGES OF THE RANGE

Quality
The majority of our dry-cured sausages are produced in natural casings.

Flavour
Our selection of meats and well-kept secret blends of spices make for unique and incomparable products !

Authenticity
Just as in the past, our dry-cured sausages are left in the dryer for several weeks to give them time to develop their exceptional flavours.
Discover our products
Rosette in pure pork casing

Slow drying for several weeks - EU origin

Approx. 2.5 kg - Variable weight - Boxes contain 4 units

Long dry-cured pure-pork sausage

Slow drying for several weeks - EU origin

Approx. 1.3 kg - Variable weight - Boxes contain 6 units

Superior-quality dry-cured pure pork sausage

Sausage is hung and dried on a pole to obtain its characteristic shape - EU origin

Approx. 2.5 kg - Variable weight - Box contains 1 unit

Chorizo circles

Mild smoked chorizo, dried flat - EU origin

Package contains 1 unit - Packaged in a protective atmosphere

Dry-cured pure pork sausage

Slow drying for several weeks - EU origin

Approx. 300 g - Variable weight - Available in a 14 unit package