Our selection of deli meats
Ham logs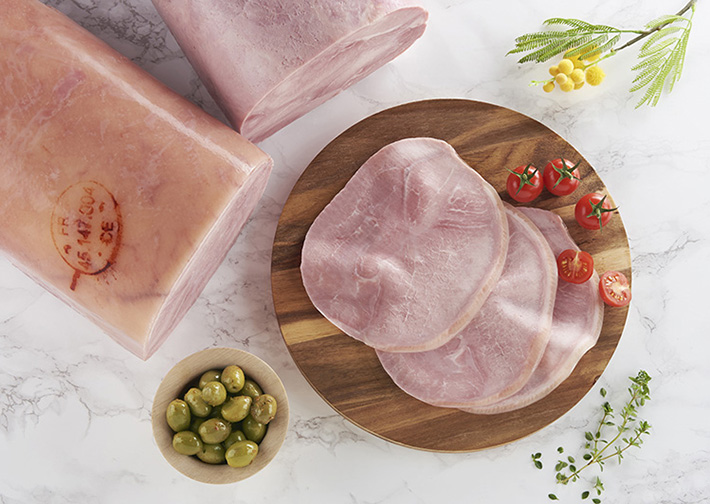 Our selection
Discover our industrial solutions ! We offer ham logs for slicing, either superior or choice quality, plain or with Provençal herbs. Are you looking for standardised ham for the ready-made meals you produce ? Check out our intermediary food products (PAI) offer !
THE ADVANTAGES OF THE RANGE

Expertise
Drawing from our experience in slicing, we provide products adapted for industrial slicing where quality and efficiency are always on the menu !

Choice
We can adapt our offers to meet your needs by choosing the parts and shapes which work for you to create a tailor-made product ! 
Discover our products
Top-quality superior cooked ham log, rind and fat removed

Half-moon shape - Approx. 20.5 kg - Variable weight

French meat deboned in our workshops - Loose

Top-quality superior cooked ham log, rind and fat removed, with Provençal herbs

Half-moon shape - Approx. 20.5 kg - Variable weight

French meat deboned in our workshops - Loose

Large top-quality superior cooked ham log with rind

Large slice size - Approx. 28.5 kg - Variable weight

EU meat deboned in our workshops- Loose

No. 1 superior cooked ham log, with rind and fat removed

Economical - Half-moon shape - Approx. 20.5 kg - Variable weight

EU meat - Made from 4D hams - Loose

Superior cooked ham log, rind and fat removed

17x10 cm, ideal size for sandwiches - Approx. 18 kg - Variable weight

EU meat - Made from 5D hams - Loose

Superior cooked ham log, rind and fat removed

Half-moon shape - Approx. 20.5 kg - Variable weight

EU meat - Made from 5D hams - Loose

Superior cooked ham log, rind and fat removed, with Provençal herbs

Half-moon shape - Approx. 20.5 kg - Variable weight

EU meat - Made from 5D hams - Loose

Choice cooked ham log, rind and fat removed

Half-moon shape - Approx. 20.5 kg - Variable weight

EU meat - Made from 5D ham

Choice cooked ham log with rind

Half-moon shape - Approx. 20.5 kg - Variable weight

EU meat - Made from 5D ham

No. 1 choice cooked ham log with rind and fat removed

Economical - Half-moon shape - Approx. 20.5 kg

Variable weight - EU meat - Made from 4D ham

Choice cooked ham log, rind and fat removed

17x10 cm, ideal size for sandwiches - Approx. 18 kg

Variable weight - EU meat - Loose

Standard cooked ham log, rind and fat removed

10 x 10 cm log - EU meat - Sold in cook-in packaging

- Loose - Ideal for toasted sandwiches

Choice cooked ham log, polyphosphate-free, rind and fat removed

11 x 11 cm log - EU meat - Sold in cook-in packaging

Loose - Ideal for toasted sandwiches

Choice cooked ham log, polyphosphate-free, rind and fat removed

9 x 9 cm log - EU meat - Sold in cook-in packaging

Loose - Ideal for toasted sandwiches

Superior cooked ham, rind and fat removed diameter 120

Moulded to 120 mm in a casing - Approx. 8.6 kg

EU meat - Sold in cook-in packaging - Loose