Our selection of delicatessen
Hams on the bone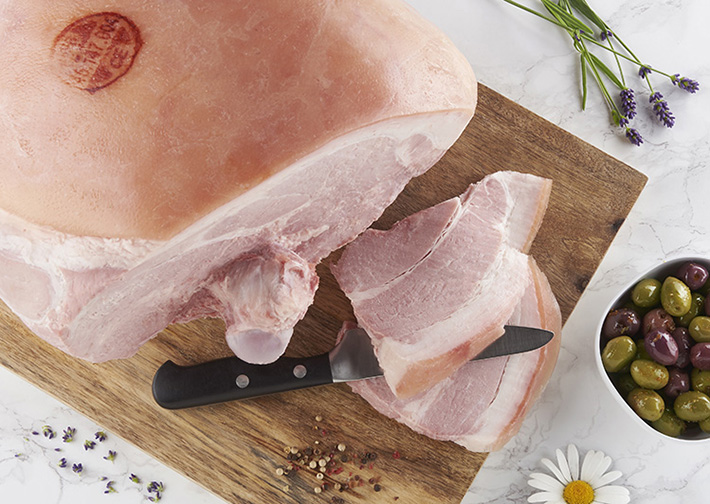 Our selection 
There is nothing quite like a delicious whole ham salted and cooked on the bone to relive nostalgic flavours. Thanks to our decades-old, well-kept trade secrets, our ham on the bone is the best there is. Discover our traditional range !
THE ADVANTAGES OF THE RANGE

Origin
Our entire range of ham on the bone is prepared using French pork.

Quality
Through individual and meticulous screening of each ham on arrival, we guarantee you top quality.

Authenticity
We promise to provide a minimally processed product with the texture and flavour of the meat still intact.
Discover our products
Superior cooked ham on the bone with rind

Approximately 8 kg variable weight - French meat

Aged product cooked on the femur - Package contains 1 unit

Superior cooked ham on the bone with rind and without the femur

Approx. 8 kg variable weight - French meat

Product aged on the bone and then removed from the bone before cooking for easier slicing - Package contains 1 unit

Genuine cooked ham on the bone

Approx. 9 kg variable weight - French meat

Product aged and cooked on the bone - Package contains 1 unit

Traditional superior cooked ham with rind and without the shank and femur

Approx. 8 kg variable weight - French meat

Product aged on the bone and then deboned before cooking for easier slicing - Package contains 1 unit