Our range of sliced delicatessen
Other sliced products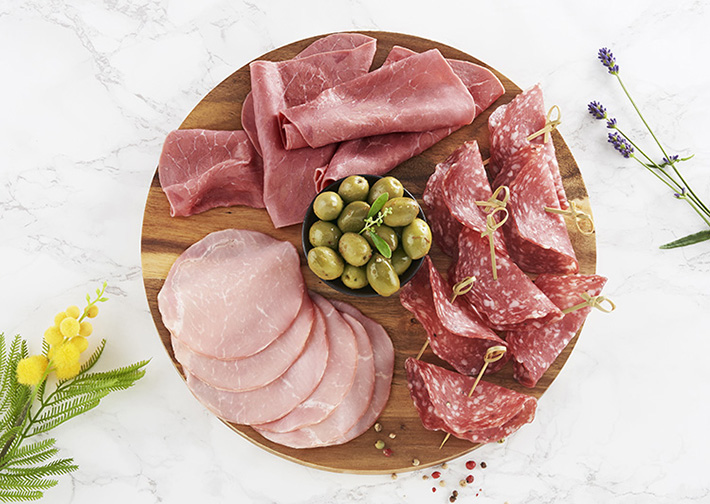 Our selection
We offer cooked ham, but what else ? Discover the rest of our range of sliced products. Everything is prepared in our processing plants including sausages, roasts, bacon... Variety is the spice of life !
THE ADVANTAGES OF THE RANGE

Choice
ABC offers a large assortment of sliced products apart from cooked ham: rosettes, beef, roast pork, bacon, etc. There is something for everyone !

Expertise
ABC is a leading brand in cooked ham production, but we're not limited to that! Our production plants can also make dry-cured sausage, bacon and a wide choice of other charcuterie products.
Discover our products
Rosette

Approx. 50 slices - 500 g fixed weight - EU origin

Box contains 6 units - Family value pack

Superior quality rosette

Approx. 65 slices - 500 g fixed weight - Box contains 6 units - French origin

Finely sliced to release all the flavours

Cooked and cured beef

Approx. 36 slices - 1 kg fixed weight - French origin

Box contains 4 units - Made from Charolais beef

Superior cooked pork roast cured and browned

Approx. 10 slices - 500 g fixed weight - EU origin

Box contains 6 units - Family pack

Superior pork fillet, beachwood smoked

Approx. 42 slices - 500 g fixed weight - EU origin

Package contains 6 units

Cooked and cured beef

Approx. 10 slices - 250 g fixed weight

Box contains 6 units - French origin - Made from Charolais beef

Cooked pork roast, cured and browned

2 slices - 100 g fixed weight - EU origin

Box contains 10 units