Our selection of deli meats
Superior cooked sliced ham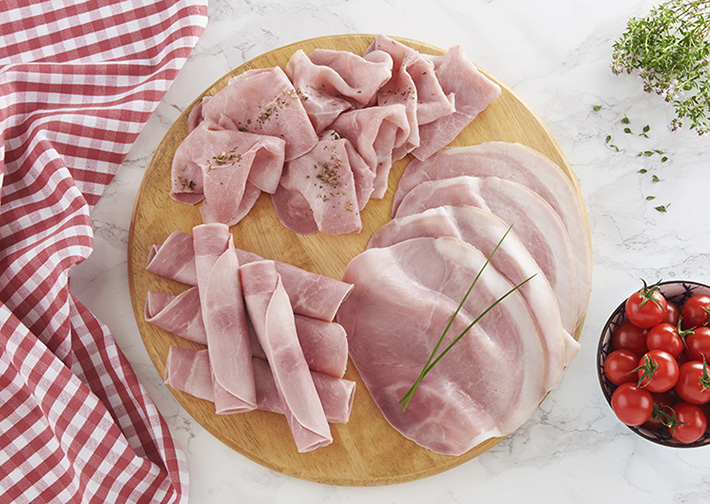 Our selection
With our three slicing lines, we offer a large range of sliced products in different shapes and sizes. Discover our superior cooked sliced ham ! 
THE ADVANTAGES OF THE RANGE

Choice
Our range of sliced ham is endless with small or large slices, flat slices, chiffonade-sliced ham and thick slices for grilling!

Expertise
From deboning hams to slicing products, production is skilfully carried out through our extensive experience with all kinds of cooked ham.

Quality
We ensure that you receive a safe and delicious product by performing inspections at every step of the production chain.
Discover our products
Traditional superior cooked ham, rind removed

2 slices - Approx. 300 g variable weight - French origin

Package contains 8 units - Thick slices retaining the fibre of the meat

Superior cooked ham with rind

2 slices - 130 g fixed weight - French origin

Package contains 10 units - Ham prepared in our deboning workshop

Superior cooked ham with rind

4 slices - 260 g fixed weight - French origin

Package contains 10 units - Ham prepared in our deboning workshop

Superior cooked ham, rind and fat removed

2 slices - 180g fixed weight - French origin

Package contains 10 units - Ham prepared in our deboning workshop

Chiffonade-sliced superior cooked ham, rind and fat removed

150g fixed weight - French origin - Finely sliced for enhanced flavour

Package contains 10 units

Chiffonade-sliced superior cooked ham with Provençal herbs, rind and fat removed

150g fixed weight - French origin - Finely sliced for enhanced flavour

Package contains 10 units

Superior cooked ham, rind and fat removed

Approx. 30 slices - 1.2 kg fixed weight - EU origin

Package contains 6 units - Special sandwich size

Superior cooked ham, rind and fat removed

Approx. 10 slices - 450g fixed weight - EU origin

Box contains 10 units - Family pack

Superior cooked ham, rind and fat removed

Approx. 10 slices - 450g fixed weight - EU origin

Box contains 6 units - Family pack

Superior cooked ham, rind and fat removed

Torchon-cooked - Approx. 10 slices - 800g fixed weight - EU origin

Box contains 6 units - Family pack

Choice cooked ham with rind

5 slices - 600 g fixed weight - EU origin

Box contains 6 units - Think slices suitable for grilling

Traditional superior cooked ham, rind removed

Approx. 14 slices - 1kg fixed weight - French origin

Box contains 4 units - Retains the fibre of the meat